The verses which conclude Jesus' famous Sermon on the Mount, Matthew 7:21-27 all relate to the general theme of relationships. We can have many different types of relationships in our lives, some rather transient, and some more permanent. But what about our spiritual relationships–are they built to last? Since June of 2019, I have been a happily married man, to my beautiful wife Melissa. I was 39 when I got married—old enough to be at that age, where, while they didn't say so, I'm sure my parents, other family members, friends, were starting to wonder if it was ever going to happen!! I even remember one of my students from the campus ministry at CU-Boulder telling me that I needed to get married by 40, otherwise I was going to be so set in my patterns, habits, and lifestyle as a single person that I'd never be able to change! I don't know if that would have been true—luckily I made it to the altar right under that threshold! But certainly I know what it's like to be single and facing the challenge of finding other eligible people with shared spiritual values, and who match up well, personality-wise.           
Of course we live in the age of online dating. It's something that's really exploded over the last decade or so in particular. And as it turns out, I did meet my wife through a dating site—Match.Com, for the record. They aren't paying me to write any of this haha, but I can vouch for them being a legit site. But I can also vouch for the fact that online dating is really a mixed bag. There are all sorts of people out there, and all sorts of different dating sites, and it can take quite a bit of time, energy, and discernment to wade through them and find what you're looking for. Now some of the sites I tried like Match, or Eharmony required the creation of a fairly extensive personality profile, but others, particularly some of the dating apps forced you to be much more succinct in crafting your profiles. That was always tough for me—I tend to be a fairly verbose person, I like to talk, I like to write, so I always appreciated it when other people would put some time and effort into crafting their profiles on these dating sites. Now of course one of the main things I talked about on my profile was my faith, and how critical it was for me to find someone who clearly had Jesus at the center of her life. This shared faith would be the foundation for any new relationship that I pursued from a dating site, as it certainly turned out to be with Melissa. But, I was always surprised to find in perusing these sites just what kinds of things people claimed were important enough to put them at the center of what they were looking for in a romantic partner. For example, I love music, older Rock particularly —ask me about the Beatles some time!! But I would see profiles on these dating sites where people would claim that they couldn't even date someone who didn't share a significant portion of their musical likes/dislikes. Or sometimes it would revolve around sports—you had to like certain teams—or something else unique—such as "do you own a passport?"—i.e. travel is the most important thing to share with your partner. Many, many people put down a variation of phrases like this: "they have to be able to make me laugh." Now I'm not knocking any of these other categories—they can all have their place within a relationship. But the superficiality of it all began to annoy me somewhat during these years of online dating. Here we were on these sites, supposedly out to find a life partner, and yet so many people didn't want to talk about anything very deep on their profiles.
Thank God my story had a very good ending, and I think if you're willing to put the work into it, online dating can be a great option. But as I've mentioned, there is this general tendency towards superficiality on many of the sites. And the truth is—it's easier for all of us to live on the surface plane, not really putting in the work to go deeper. And that's true not only with our pursuit of romantic relationships and friendships, but in the spiritual realm as well. A lot of people are connected to Jesus—but only on the surface level, and the things they are valuing in life are not the same things that Christ tells us to value. What's more—the fragility of this relationship is sometimes not immediately apparent, but it will be tragically exposed when difficulties comes along—a trial or a test of some kind.
Let's take a look now at Matthew 7:21-23. "Not everyone who says to Me, 'Lord, Lord,' shall enter the kingdom of heaven, but he who does the will of My Father in heaven. Many will say to Me in that day, 'Lord, Lord, have we not prophesied in Your name, cast out demons in Your name, and done many wonders in Your name?' And then I will declare to them, 'I never knew you; depart from Me, you who practice lawlessness!" This is a tough passage to read, and at first perhaps we wonder who exactly are these people who think they know the Lord, and turn out to be mistaken. To help illustrate the situation, I want to try a little thought experiment. I'm going to list some names—ones which I think almost all Americans would be familiar with: Vladimir Putin, Donald Trump, LeBron James, Taylor Swift, Tom Brady, and Paul McCartney. These are names which as I say, are no doubt familiar…and in addition to the names many of us can probably picture faces as well. We may even can hear in our head what these people sound like when they're talking. And what's more many of us probably know a good deal about some or all of these individuals in terms of the details of their life. We know the answer to questions such as where are they from, perhaps where they went to school, and maybe what foods and free time activities they enjoy. Now, let me add one more name to that list—that of Kobe Bryant. He of course, sadly passed away just a few years ago—and when that happened, tributes began to pour in from across the country, and even internationally. Many people talked about how they missed Kobe, and they shared their favorite memories about him. But with Kobe Bryant, or any of the people I just named—while these are famous and familiar individuals…how many people actually know them, in a real and personal sense? These celebrities have millions of followers on social media, as well as millions of people who recognize their picture, and their voice, or know information about them. But how many of these followers are actual friends? Have the majority of these people even so much as met these celebrities one time? Most certainly not, because here's the truth–you can "know" someone, but not really "know" them in an authentic personal way, at all.
And this is what Jesus is talking about here in these verses— addressing a clear message to those people who say His name and wish to claim some sort of knowledge and relationship—when there's nothing deeper, or more substantial there. I want to note three points—first, from verse 22, it's clear that we are never saved through any works—no matter how miraculous or extraordinary. One of my favorite passages in Scripture is Ephesians 2:8-9. And I love it because Paul is so emphatic in his description of the nature of salvation for the believer: "For by grace you have been saved through faith, and that not of yourselves. It is the gift of God, not of works, lest anyone should boast." Even though in verse 22 we read about these dramatic actions of prophecy, casting out demons, and other "wonders", as the text says—none of these things can save us—they're still just works. As we just mentioned from the Ephesians passage, our faith is what saves us. Then look back at verse 21. Jesus doesn't want our lip-service, or some sort of shallow, half-hearted acknowledgement of Him. Lots of people use His name, but how many are ready and willing to do His will? Now obviously we could spend an entire other lesson in discussion of the question—what is God's will for my life? But I think a pretty solid general summary is provided for us from Jesus' teaching in Matthew 22:37-40. Jesus is asked what is the greatest commandment, and He gives two in response: 'You shall love the Lord your God with all your heart, with all your soul, and with all your mind.' 38 This is the first and great commandment. 39 And the second is like it: 'You shall love your neighbor as yourself.' 40 On these two commandments hang all the Law and the Prophets." Jesus tells those whom He never knew to depart from His presence. In Scripture, both in the Old and New Testaments, "knowledge" carries the connotation of something different than what we usually mean when using the term casually. It's the kind of deep connection God talks about in Jeremiah 1:5—"Before I formed you in the womb I knew you; before you were born I sanctified you a prophet to the nations." The Hebrew verb here is a form of "yda"—"to know". And this is a divine knowledge, whereby God, in His omniscience, is familiar with us to the deepest possible level of our beings. He doesn't come to know us gradually, or over time, but from the beginning of our lives—the moment of conception in our mother's womb. So it's an extraordinary, intimate, and, complete type of knowledge. Likewise, the verb in Matthew 7:23 is a form of the Greek "ginosko", which also conveys an idea of a very intimate, personal knowledge gained through experience. Jesus uses this same Greek verb in John 10:14, where He declares: "I am the good shepherd: and I know My sheep, and am known by My own." Thus if we can learn anything from this sobering group of verses, Matthew 7:21-23, it's that just because someone uses the name of Jesus, we cannot assume they have this deeper, personal knowledge of Christ and relationship with Him.
Now let's turn to Matthew 7:24-27. "Therefore whoever hears these sayings of Mine, and does them, I will liken him to a wise man who built his house on the rock: and the rain descended, the floods came, and the winds blew and beat on that house; and it did not fall, for it was founded on the rock. "But everyone who hears these sayings of Mine, and does not do them, will be like a foolish man who built his house on the sand: and the rain descended, the floods came, and the winds blew and beat on that house; and it fell. And great was its fall." I actually want to look at these verses out of order, so let's start with the story of the foolish man, who built on an unsound foundation. Now just as were discussing with the Biblical conception of "knowledge" so too when the Bible talks about "wisdom" the idea is something usually broader and more comprehensive than we sometimes mean today when we use the word in English. There's a whole genre within Scripture known as Wisdom Literature, including Job, portions of the Psalms, and the Books of Proverbs, Ecclesiastes, and Song of Solomon. When we read these books, although they all present somewhat different perspectives on the idea of wisdom, one message that is clearly conveyed in common is that Biblical wisdom, involves much more than just intellectual knowledge or understanding. It's not merely about being smart, but about knowing how to live life skillfully, and with Biblical wisdom there is always a moral dimension!! I'll share just a couple of verses from Proverbs that really help to capture the Biblical conception of wisdom. First of all—there is the utter foolishness that we as humans can commit if we are trusting solely in our own capacity to make wise decisions and choices. Proverbs 14:12—"There is a way that seems right to a man, but its end is the way of death." By contrast, at the very beginning of the book, in Proverbs 1:7, we learn what the foundation of Biblical wisdom consists of: "The fear of the Lord is the beginning of knowledge." Biblical wisdom is about knowing our own limitations, and being smart enough to realize what we don't know, and that we aren't really capable of running our lives for ourselves—we must instead entrust ourselves fully to God, and build our future upon this relationship. Hence Proverbs 3:5—"Trust in the Lord with all your heart, and lean not on your own understanding."
Scripture teaches us repeatedly that it's a really bad idea to base our lives on anything besides God, because everything around us is in a state of flux, including ourselves. The world is always changing, and we ourselves are slowly dying each day. Amidst all this brokenness, even those things we wish were most permanent, and reliable, can easily let us down. In Matthew 24:35, Jesus perfectly encapsulates the world's transience, while still affirming the permanence of His message: "Heaven and earth will pass away, but My words will by no means pass away." What's sad is that just as some of those who thought they were doing God's work, and were in league with Christ, only realize the truth at the end, as verse 23 tells us, here we find that those who have built on an uncertain and unstable foundation don't realize their error until the entire house comes to ruin in a storm. The winter of 1776 was perhaps the darkest time for the cause of the American Revolution. Our armies had suffered a string of serious defeats in the fall, leading to the British capture of New York City. To make matters worse, many of the American soldiers had enlistments which were due to expire at the beginning of 1777. Sensing that popular support for the American cause was struggling and that the morale of the army and the public was poor, political theorist Thomas Paine penned one of the most celebrated pamphlets in our nation's history, known as The American Crisis. It famously opened with the following lines: "These are the times that try men's souls: The summer soldier and the sunshine patriot will, in this crisis, shrink from the service of his country; but he that stands by it now, deserves the love and thanks of man and woman." In popular language that everyone could understand, Paine bolstered the national spirit by reminding Americans that the true supporters of the cause of the Revolution would show themselves by maintaining their allegiance, and their unshakeable support for American liberty, even in the moment of greatest crisis, when the outlook of the war was anything but certain. Paine's point–that moments of crisis can serve to reveal our true allegiance, and the strength of the relationships we claim to value, is a very valid one. Jesus talks about this in one of His most famous parables, that of the Sower, as found in Matthew 13. This is a fascinating passage, because it represents one of the few parables where Christ tells it and then subsequently explains the exact interpretation. Jesus talks about a man sowing seed, in different places, and then reveals what happens to that seed afterwards. Matthew 13:5—"Some fell on stony places where they did not have much earth; and they immediately sprang up because they had no depth of earth. But when the sun was up they were scorched, and because they had no root they withered away." Then, in His explanation of the parable from Matthew 13:20-21, Jesus teaches that "He who received the seed on stony places, this is he who hears the word and immediately receives it with joy; yet he has no root in himself, but endures only for a while. For when tribulation or persecution arises because of the word, immediately he stumbles." So there we have it—the exact same principle as expressed in this story about the wise and foolish builders. The weakness of one's relationship to Jesus, and its lack of depth is revealed not in the good times, but when the storms of adversity come rolling in.
But the same storm that can wreck one person's foundation, can demonstrate the lasting strength of another's. This is the case with the wise builder that Jesus describes in Matthew 7:24-25. He faces the exact same storm—with rain, flooding, and wind, but he has wisely chosen to found his life on the unchanging truth of Christ. As Hebrews 13:8 reminds us "Jesus Christ is the same yesterday, today, and forever." Earlier we were talking about the importance of knowing Christ not just in an intellectual way, but in a deeply intimate and personal manner, as indeed God desires to know us. And how can we confirm that our relationship with Jesus is solid, lasting, and authentic? We must continually ask ourselves this question–can it withstand the storms and the tough times?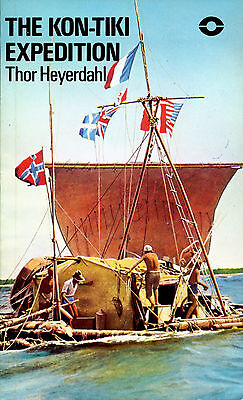 In 1947 the Norwegian explorer Thor Heyerdahl set out on an extraordinary journey. With a small crew he sailed over 3700 miles across the open Pacific Ocean, from the western coast of Peru to the islands of French Polynesia. He made this amazing trip aboard the Kon-Tiki, a small, hand-built raft. Heyerdahl made the voyage to prove some of his ethnographic theories about cultural interchange between the peoples of South America and the South Pacific. But one of his most daring decisions was to build his seacraft primarily out of balsa wood. Many so-called nautical experts told him this was a disastrous plan, because the porous balsa wood would be too absorbent, leading the raft to become water-logged and eventually sink. But Heyerdahl trusted that his craft would hold up during the long trek across the deep ocean. The only way to prove it however—was to actually make the trip! He had to subject the Kon-Tiki to the waves, storms, risk of shark attack—all of the dangers of the open sea. But through this trial of adversity, Heyerdahl proved his craft to be seaworthy, based on the strength of its foundation—the balsa wood logs that he choose to build the Kon-Tiki.
We all need to make sure that we know who or what we are trusting in to take us safely through life! And if we say we are placing our faith in Jesus, let's make sure that we really know Him, and aren't just paying lip-service to His name! Paul tells us exactly how we should know Jesus in Romans 10:9. "If you confess with your mouth the Lord Jesus Christ and believe in your heart that God has raised Him from the dead, you will be saved." We never want to just confess Christ verbally—there also needs to be that decision taken from the innermost depths of our heart, to repent from our sins, and to believe in Him, not just as some historical figure, or as a good exemplar to follow, but as Paul tells us—the risen Christ—our Savior. Now I wish we could say that all of our relationships in life are going to be rewarding, fulfilling, and stable, rock-solid. But the truth is, they won't be—not for you, not for me, not for any of us. So the best I can do is point you to the One in whom you can place all of your trust, and never be let down. He is the Rock, He is Christ! I want to close by quoting from a wonderful 19th century British hymn—"Abide with me." It expresses the desire that I think we all have to find that relationship, and that foundation that won't change and can carry us through all of the ups and downs of life in an ever-changing world. It's the hope that we can find someone who will always be there for us, will love us, and will never abandon us, nor change their feelings. "Swift to its close ebbs out life's little day; earth's joys grow dim; its glories pass away. Change and decay in all around I see; O Thou who changest not, abide with me." This hymn, like so much other great Christian music, is really a love song to Jesus. If we will build our lives on His firm foundation, Christ, will indeed abide with us, and fulfill His promise of the Great Commission, Matthew 28:20, to be with us until the end. And then with Jesus on our side of course, the end is not the end, but the beginning of our true life—the eternal one, together with our Lord and the fellowship of all believers in Heaven. May we know Christ in this way, and may that knowledge carry us into eternity, on the strength of the relationship which will change our lives, connecting us forever to the One who cannot change—Jesus. Amen!