As we approach Valentine's Day, my thoughts have turned to pondering the often vast disparity between the worldly definitions of "love" and how we see love illustrated in the pages of Scripture, particularly through the life of Christ. Valentine's Day in America, and most of the Western world, is meant to be a celebration of romantic love between couples and spouses, and while there is nothing wrong with that on the surface, more frequently, in our culture it's a very short step from talk of "romance" to highly sexualized thoughts and images. For many people it would seem, the terms "love", "romance", or "passion" invariably carry sexual connotations. This trend has of course been reinforced by movies, television, popular novels. At the same time, most people say at least that they are looking for "true love" and while each individual might define that quest somewhat differently, I think it's very significant, that despite what their lifestyle choices may indicate, people are looking for more than just physical fulfillment in their relationships.
As further proof of this, the origins of Valentine's Day are fascinating to explore. Despite the current associations the day might conjure up for most people, its namesake was actually a Christian saint, a martyr of the early church, and a true embodiment of the Christian ideal of love. As with many of the early saints of the church, there is a lack of extensive factual information about Valentine, and some of the stories associated with him are perhaps apocryphal. But nonetheless, there are numerous traditions concerning a 3rd century Christian priest in Rome named Valentine. He was known for performing clandestine weddings for Christian soldiers, despite imperial decrees forbidding this, and he also provided aid and encouragement to many Christians who were being persecuted. As part of this encouragement, Valentine supposedly cut out paper hearts which he would give to the soldiers he married, and to persecuted believers as a reminder of God's love for them, and their vow to love and serve God in return. Eventually his activities got him arrested, and he went before the Roman Emperor Claudius II. The Emperor had discussions with Valentine, and was impressed with his intellect and his steadfast refusal to give up the Christian faith, even though just a nominal conversion to Roman paganism could have saved his life. The story is also told that while imprisoned, Valentine healed Julia, the blind daughter of his jailer Asterius, leading to the conversion of him and his entire household. On the eve before his execution, Valentine supposedly sent a last note of farewell and encouragement to Julia, signing it "your Valentine." The modern celebration of Valentine's Day, which began in 19th century Britain, drew on stories of this early Roman martyr for its inspiration.
The idea of martyrdom as the ultimate expression of Christian love is of course rooted in the life and teachings of Christ Himself. In John 15:13, Jesus states simply, and profoundly, "Greater love has no one than this, than to lay down one's life for his friends." These words, expressed not long before His own impending sacrifice on the Cross, echo the same theme of sacrificial giving as expressed in so many other passages of the Gospels. One of my other favorites is John 10, where Christ gives us the extended description of Himself as the Good Shepherd. Jesus' love for His flock is ultimately proven in the willingness He has to give up His life for their welfare. John 10:11—"I am the good shepherd. The good shepherd gives His life for the sheep." Then, in John 10:17-18, Christ proclaims "I lay down My life that I may take it again. No one takes it from me, but I lay it down of Myself." Thus Christ makes it clear, again and again, that His sacrifice is not made under force or compulsion, but done with a willing heart.
Starting with the first Christian martyr, Stephen, and followed by people such as Valentine, so many brave Christian men and women have been willing to give up material comforts, safety, and ultimately even life itself for the advancement of the Gospel. In an attempt to better understand the great love that inspired and allowed them to remain steadfast even in the face of death, I enjoy reading about the lives of some of these significant Christian martyrs through the ages. Stephen's story is recounted for us in Acts 7. Chosen to be a deacon to serve the 1st century church in Jerusalem, Stephen offered an impassioned and convicting speech to the Jewish high priest, reminding him of all of God's Covenant faithfulness to the Jewish people in the past, and concluding by chiding them for having so often rejected God's Spirit, as they were doing even now by refusing to accept Christ. As a result of this speech, Stephen was stoned to death. But the last few verses of Acts 7 memorably record two noteworthy details about his death. First, in verse 56, we see a vision of the heavens opening, and Christ, standing at the right hand of God. Imagine, the Lord and God of the entire universe, actually on His feet to honor the example of the first Christian brave and faithful enough to follow in Christ's footsteps by embracing death for the sake of his faith!! Furthermore, in Acts 7:58 we're told that present at the stoning of Stephen was a man named Saul. Just a short while later, in Acts 9, we of course read about how Saul, who later becomes Paul, is converted on the road to Damascus. And we can't help but wonder if the journey of this greatest of Christian missionaries from persecutor to champion of the faith, didn't begin as he witnessed the inspired bravery and commitment of Stephen in the face of death. In addition to Stephen, and Valentine, another inspiring martyr of the early Christian church was Polycarp. The Bishop of Smyrna, he was considered one of the "Apostolic Fathers", being part of a select group of church leaders who had been discipled by the original 12 Apostles. According to church tradition, the Apostle John had been Polycarp's discipler. At the advanced age of 86, Polycarp was arrested during a series of persecutions of Christians taking place under the leadership of the Emperor Marcus Aurelius. He was urged, in light of his age, to make a simple gesture of swearing by Caesar, and thereby to save his life. Polycarp's famous response was this: "Eighty and six years I have served Him, and He has done me no wrong…How then can I blaspheme my King and Savior? You threaten me with a fire that burns for a season, and after a little while is quenched; but you are ignorant of the fire of everlasting punishment that is prepared for the wicked." And so Polycarp subsequently and willingly suffered death by burning at the stake—an incredible example of faithfulness to Christ demonstrated even in the twilight of one's life.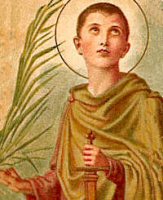 For an example of steadfast faithfulness in youth, there is the story of St. Pancras, who was martyred at the tender age of 14 in the early 4th century AD. Pancras, a Roman, had converted to Christianity as a boy, but during widespread persecutions under the Emperor Diocletian, he was brought before the authorities and asked to sacrifice to the Roman gods. Supposedly the Emperor himself was quite impressed with the young man's fortitude, and offered him wealth and power in exchange for renouncing his beliefs. However the youth persisted in refusing to abjure Christ, and so he was beheaded. When I think of stories of early Christian martyrs, I also cannot forget the Latin phrase "Quo Vadis", which being translated, means "Where are you going?" The phrase comes from a post-Biblical account of Peter's later life, leading up to his eventual martyrdom. While Peter's death is not directly recounted in the Bible, it is most certainly alluded to. Jesus, in John 21:18, famously predicts Peter's eventual martyrdom: "Most assuredly I say to you, when you were younger, you girded yourself and walked where you wished; but when you are old, you will stretch out your hands, and another will gird you and carry you where you do not wish." Church tradition subsequently holds that Peter was executed in Rome around the year 64 AD by the cruel and tyrannical Emperor Nero. A story from the post-Biblical narrative Acts of Peter and passed down in Christian tradition holds that Peter, falling back into his old habits of weakness and denial, flees the city of Rome and his impending martyrdom. Then alongside a road on the outskirts of the city, he encounters the risen Christ, and Peter asks him the aforementioned question Quo Vadis? Jesus replies "I am going to Rome to be crucified again." After this encounter, Peter is strengthened to return to Rome, and face whatever consequences might ensure for standing for his faith. Supposedly he was crucified upside down, feeling himself unworthy to be killed in the same manner as the Lord. I love this story because it demonstrates that even martyrs, apostles, and great saints of the church like Peter, are only human, and still need at times to receive spiritual encouragement like we all do.
Leaving the period of the early church, there are so many examples of martyrs from later history, throughout all ages of Christian history. Some stories of martyrdom chill the blood with the revelation of the great cruelty which some believers have had to endure at the hands of those who could not fathom, or tolerate the love of Christ. One such example comes from the lives of a group of French Jesuit missionaries to Canada in the 17th century, some of the first people who tried to convert Native tribes like the Hurons  to Christianity. These remarkable men, among them Jean Brebeuf, Charles Lalement, and Charles Garnier, gave up the comforts of life in Europe for the harsh realities of existence in the barely settled Canadian wilderness of the 17th century. They spent long hours as some of the first Europeans to learn the Huron language. Brebeuf in particular excelled in linguistics, compiling a dictionary of Huron, and also translating a catechism that became the first printed work in that language. In addition, he composed a beautiful Christmas carol in Huron, "Twas in the moon of wintertime" that is still heard today. The French missionaries had to contend with all manner of difficulties, including frequently being blamed amongst the Natives for bad harvests or outbreaks of disease in the various villages they ministered to. However the greatest threat was the hostile Iroquois tribe, sworn enemies of the Huron people. Eventually the attacks of this tribe grew more numerous, but the French priests remained committed to serving their flock, despite the very real risk of martyrdom. That risk became a reality in 1649.
As recounted in Butler's Lives of the Saints,  Brebeuf and Lalemant showed almost superhuman endurance in the face of the sufferings they had to endure. "On March 16, 1649, the Iroquois attacked the village at which Brebeuf and Lalemant were stationed. The torture of these two missionaries was as atrocious as anything recorded in history. At the height of the torments Father Lalemant raised his eyes to Heaven and invoked God's aid, whilst Father de Brebeuf set his face like a rock as though insensible to the pain. Then, like one recovering consciousness, he preached to his persecutors and to the Christian captives until they gagged his mouth, cut off his nose, tore off his lips, and then, in derision of baptism, deluged him and his companion martyrs with boiling water." Father Garnier would soon join his fellow Jesuits in attaining the martyr's crown, as further described in Butler's Lives of the Saints: "Before the end of the year 1649 the Iroquois had penetrated as far as the Tobacco nation, where Father Garnier had founded a mission in 1641 and where the Jesuits now had two stations. The inhabitants of the village of Saint-Jean, hearing that the enemy was approaching, sent out their men to meet the attackers, who, however, took a roundabout way and arrived at the gates unexpectedly. An orgy of incredible cruelty followed, in the midst of which Garnier, the only priest in the mission, hastened from place to place, giving absolution to the Christians and baptizing the children and catechumens, totally unmindful of his own fate. While thus employed he was shot down by the musket of an Iroquois. He strove to reach a dying man whom he thought he could help, but after three attempts he collapsed, and subsequently received his death-blow from a hatchet which penetrated to the brain." Brebeuf, Lalemant, Garnier, and five other French priests were collectively canonized in 1930 and thereafter known as the "Martyrs of North America."
Closer to our own time, the horrors of the Holocaust revealed the story of a life that shone with the nobility of Christian love and sacrifice. Maximilian Maria Kolbe was a man later called by Pope John Paul II "the patron saint of our difficult century." Kolbe was a Polish priest who had spent time working as a missionary in Japan during the 1930s. Later returning to Poland, Kolbe continued his ministry. When World War Two and the German invasion of his homeland intervened, Kolbe, whose father was German, had a chance to essentially protect himself from any harm by signing a special Nazi registry, but he refused. Instead he defied his occupiers by continuing to work at his monastery, producing anti-Nazi pamphlets, and over time sheltering some 2,000 Jews from German persecution. Eventually Kolbe's resistance led to him being arrested and sent to the notorious concentration camp at Auschwitz. There, in July of 1941, as retribution following an escape by three prisoners, the Nazi guards decided to select 10 prisoners at random to suffer death by starvation. One of the men selected to die lamented having to leave behind his wife and children, and so Kolbe amazingly volunteered to take his place. The brave priest eventually died after two agonizing weeks of starvation. During that time, he was frequently observed to be leading his fellow inmates in prayer. Franciszek Gajowniczek, the Polish man whose life was spared by Kolbe, lived a long full life, dying in 1995. And until the end of his days, he continued to tell the story of the priest whose Christ-like bravery had saved him. Kolbe's story, like that of the North American martyrs is a powerful reminder of how even amidst the worst examples of human cruelty and depravity, God's love shines through to have the final word.
Sadly enough, not all Christian martyrs have died at the hands of non-believers. Some have tragically perished as a result of the internecine conflicts that have plagued Christianity in times past. Dirk Willems was a Dutch Anabaptist who lived in the mid-16th century. Now the Anabaptists were a group that emerged from the Reformation, which many scholars believe were the forefathers of the modern Baptist church. They became known for rejecting the practice of infant baptism, instead advocating an adult believer's baptism. As a result of this belief however, they were sadly persecuted by both Protestants and Catholics. So Willems, as an Anabaptist leader, was caught and imprisoned by Dutch Catholics. However he eventually escaped from prison and was fleeing across a frozen moat when a prison guard began chasing him. Malnourished, and lighter from the scant prison rations, Willems was able to run across the ice and was getting away, when he suddenly heard the screams of his pursuer who had broken through into the freezing water below. Remarkably, Willems turned back to save the life of the very man who was chasing him. The guard was grateful and would have let him go, but his supervising officer, standing on the shore, sternly ordered the guard to re-arrest his rescuer. And so a few months later, in 1569, Willems died, burned at the stake as a heretic, but today revered by Christians from all nations as a man of true Christ-like character.
When the staunchly Catholic Queen Mary I came to the throne in England in 1553, she initiated a savage period of persecution against English Protestants up until her death in 1558, thus earning her the sobriquet "Bloody Mary." Three of the English clergy who died during Mary's persecutions were Thomas Cranmer, Nicholas Ridley, and Hugh Latimer. Latimer and Ridley, Anglican bishops, were burned at the stake in Oxford in 1555, dying after refusing to recant the theological and Biblical principles they supported as Protestants. While being burned alive, Latimer famously encouraged Ridley thus: "Play the man, Master Ridley; we shall this day light such a candle, by God's grace, in England, as I trust shall never be put out." Latimer's words proved prophetic, and a stirring reminder, that for being willing to endure a few moments' worth of physical pain, they and so many other martyrs offered a legacy of faithfuness that would inspired generations who came afterwards. In the same way, Thomas Cranmer, former Archbishop of Canterbury under the Protestant King Edward VI faced severe persecution and imprisonment under Queen Mary, Cranmer on several occasions prepared to sign confessions repudiating his Protestant beliefs in order to save his life. But each time he tore the confession up, and eventually was prepared to face martyrdom. When he was burned at the stake in Oxford in 1556, he reportedly placed his right hand into the fire first saying: "I have sinned, in that I signed with my hand what I did not believe with my heart. When the flames are lit, this hand shall be the first to burn." 
So how do we make sense of the great sacrifices, tortures, and ultimately deaths that these martyrs were motivated to endure throughout Christian history? Such love as they demonstrated is not really comprehensible to the world at large, and I think can only be understood through the lens of how God has already defined for all of humanity what love truly means. It is the great truth illustrated in 1 John 4:19 :"We love Him because He first loved us." But for so many of us in 21st century America, martyrdom seems like a far-off impossibility, even amidst the realities of a world in which many Christians continue to die for their faith. In many ways we are victims of the affluence and comfort of a society in which very few of us are asked anymore to make tangible or difficult sacrifices in the name of our beliefs. Ironically enough then, the very blessing of living in a country where we can freely practice our faith, and freely share it with others could serve to erode the fervor with which we pursue Christ and proclaim His Kingdom to others. Former IMB missionary Nik Ripken is among the foremost authorities on the persecuted church today, having spent countless hours interviewing Christian men and women who've suffered for Jesus. In his powerful book The Insanity of God, Ripken shares the story of a Russian man named Stoyan, who endured years of imprisonment for being a Christian who tried to distribute Bibles in the old Soviet Union. After being interviewed by Ripken, Stoyan had these words of admonishment to share with believers in the west: "I took great joy that I was suffering in my country so that you could be free to witness in your country. Don't you ever give up in freedom what we would never give up in persecution – and that is our witness to the power of the resurrection of Jesus Christ!" 
Such convicting words remind us that while Jesus certainly doesn't call on all believers to become martyrs, He does exhort us to demonstrate the same sacrificial love He demonstrated in His life and ministry. He also calls on us to be ready to live a life of service to others, and to deny those selfish impulses which could keep us from realizing our full spiritual potential. Luke 9:23-24—"If anyone desires to come after Me, let him deny himself, and take up his cross daily, and follow Me. for whoever desires to save his life will lose it, but whoever loses his life for My sake will save it." Paul expresses similar thoughts in many of his writings, emphasizing that in addition to being prepared to make the ultimate sacrifice for our faith, we should also be ready to "die" on a daily basis by turning our back on sinful desires. Galatians 5:24—"And those who are Christ's have crucified the flesh with its passions and desires." Then in Romans 6:11—"Likewise you also, reckon yourselves to be dead indeed to sin, but alive to God in Christ Jesus our Lord." Jesus tells us quite frankly in Luke 14 that we must count the cost if we are willing to be "all in" with our decision to follow Him in our lives. Luke 14:27-30—"And whoever does not bear his cross and come after Me cannot be My disciple. For which of you, intending to build a tower, does not sit down first and count the cost, whether he has enough to finish it— lest, after he has laid the foundation, and is not able to finish, all who see it begin to mock him, saying, 'This man began to build and was not able to finish'? The Christian life is certainly an arduous pilgrimage at times, but the example of the martyrs should give us courage and purpose, knowing that for so many brave believers down through the ages, Jesus was worth it—worth whatever sacrifice they could offer, including ultimately their own lives. So as we think about Valentine's Day, we should remember how the greatest love story of all was started, and finished by God, through the gift and death of His own precious son. Down through so many centuries, and for so many people, God's love will remain unrequited, never fully appreciated, acknowledged or returned. Yet there have been those select few individuals in whose heart a desire burned to reciprocate that love and devotion to God, in however an imperfect manner, and even at the cost of their very lives. Whatever tortures, torments, and deaths they may have suffered, the martyrs could endure because something so much more powerful had taken root in their hearts—the love of Christ!! And as 1 John 4:18 eternally attests: "There is no fear in love; but perfect love casts out fear" May such love be found in all our hearts this Valentine's Day, and always, as we share it with a lonely, and brokenhearted world.